Semi Radrada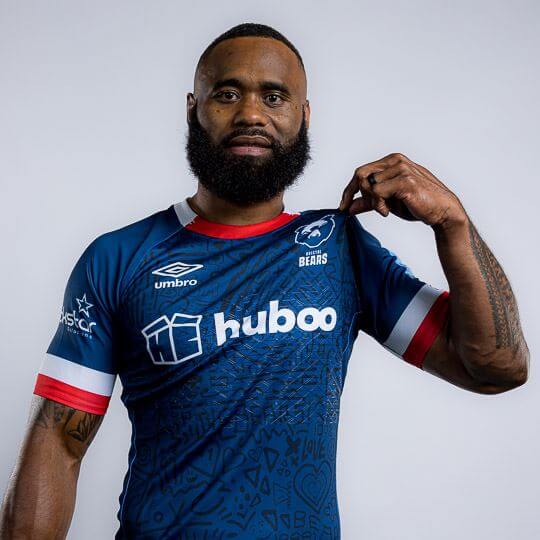 Age: 25
Weight: 103 kg
Height: 192 cm
Bench press 1RM: 155
Squats 1RM: 200
When and how did you start playing rugby?
I started when I was 6 years old.
How? It's Fiji, Rugby is everywhere.
Were you gifted as a young rugby player?
Fortunately, I was!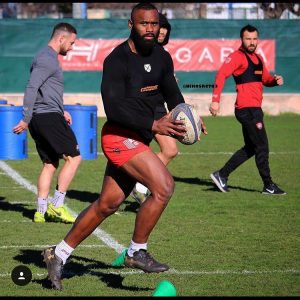 Semi Radradra in the Rugby Warfare Insignia Pima Long Sleeve. Shop our rugby clothing.
Did you play other sports?
Volleyball.
What's your training like? (Gym).
Focused on strength and power. Alternating days of upper and lower torso.
Have you always followed a structured program?
Not really, my programs are almost always adjusted to what I feel needs work the most.
If you could only pick 3 weight lifting exercises what would they be and why?
Bench Press – power for my upper torso

Squat – targets core, glutes, and thighs. Great for overall leg development

Hip thrust with weight – targets my hip flexors and glutes, improves and maintain my speed.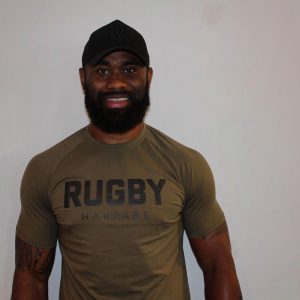 Semi Radradra in the Rugby Warfare Performance Tee V4 Khaki.
Shop our rugby clothing.
What has been the highlight of your career so far?
Being a part of the Australian Kangaroos.
What's been the hardest game you've played and why?
I reckon it would be my first game of the league because I was not too familiar with it and didn't feel I was prepared enough for it.
What are your pre-game rituals?
A massage, couple of stretching exercises, and of course a prayer.
What's the best piece of advice you've been given?
Be considerate of others.
Outside of rugby, what do you love doing?
Fishing and farming.
Any final tips and advice for anyone wanting to make it as a rugby player?
Work hard and don't quit. Ever.
What would you be doing now if you didn't play rugby?
Farming
Quick Fire Questions For Semi Radrada
Favourite Film/Show?
A walk to remember
Best mate in rugby?
Timmy Mannah
Most skilled player you've ever played against?
Benji Marshall
Favourite Song?
My Wedding Song, Song Title – In Case You Didn't Know By Bret Young
Favourite player, to play with?
Brad Takaragi
Who's your rugby hero?
Rupeni Caucau
Ronaldo or Messi?
Ronaldo
Favourite sports hero?
Jonah Lomu
Best try?
100m run against Broncos last year
Dream dinner party guest?
Dwayne Johnson or Kevin Hart
The most famous person you've ever met?
Bryan Habana and Ma'a Nonu
Front row seat to any sporting event, what would it be?
American Football – Super Bowl
Describe yourself in 1 word?
Shy
Connect with Semi On Instagram;
@Semi_radradra_
P.S You can buy any 3 items from our new range for £50 (saving you £25), We ship globally too.
Use code "3for50" to apply the discount.