In light of recent controversy regarding homophobic slurs by Israel Folau, we thought we would shine a light on 10 influential gay rugby personalities.
There are many great professional rugby players and personalities. These players have become a beacon of light because they overcame stereotypes and other challenges faced by homosexual athletes way too often.
In this article, we'll name ten of the most notable gay rugby personalities, analyze their accomplishments, discuss how they are shaping the game today, and assess their impact on the overall perception of homosexual professional athletes around the world.
Want to improve your Rugby performance? Download our FREE Rugby specific weight-lifting program by Clicking here. You'll get access immediately. Join 10,000 of others that have reaped the rewards.
Encouraging diversity and inclusion in rugby
Rugby revolves around fair play, discipline, and most of, all equality.
That being said, due to its physicality, rugby is regarded as a "manly" sport, which makes it more difficult for gay players to publicly acknowledge their preference.
At the same time, there are many misconceptions about this beautiful sport, which has led to the marginalization and targeting of gay players. Some high-profile stars like Israel Folau have recently made headlines due to potentially homophobic posts on social media.
However, many industry professionals have united to condemn these remarks, embodying the true spirit of rugby.
This is one of the main reasons why representatives of World Rugby met with the leaders of International Gay Rugby (IGR) to help eradicate homophobia and intolerance from the game.
Both IGR and World Rugby signed an agreement in 2015 in order to work together and promote an inclusive mantra in the sport. At the same time, the governing body of rugby has pledged to encourage a diverse environment through their worldwide "rugby for all" program.
Notable homosexual rugby players and personalities
While World Rugby is taking a firm stance on inclusion and diversity, there are many personalities who have been paving the way for this inspiring movement.
Here's a list of ten notable gay rugby players and how they are shaping the game today.
Ian Roberts
The very first high-profile rugby player to ever come out to the public as gay is former Australian international Ian Roberts.
A second-row forward, Roberts was born in London in 1965 and moved to Australia two years later where he would become one of the most respected rugby league players in the country's history.
Roberts publicly acknowledged his sexual orientation in 1995 and has since been named to the South Sydney Dream Team as well as one of the top 25 greatest New South Wales players.
Finally, he was awarded the Australian Sports Medal for his contribution to the development of rugby league.
Keegan Hirst
Even though Ian Roberts may have been the first high-profile player to openly admit being gay, Keegan Hirst was the first to ever do it while still active. Currently a Wakefield Trinity prop, Hirst has become one of the most notable gay athletes, earning himself a starting role after signing a contract with the League side in 2016.
Sam Stanley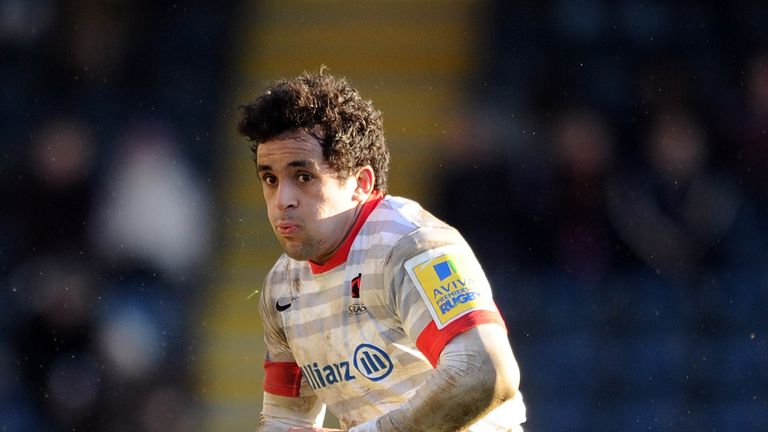 Sam Stanley became the first openly gay Rugby Union and Sevens player in the UK. The former Saracens full-back also played with England in the World Rugby Sevens Series from 2013 to 2015 but has been sidelined from the sport due to a recurring injury.
Louisa Wall
While most of the athletes on this list have earned a name on the pitch, Louisa Wall has become a prominent politician in New Zealand after completing a successful rugby career. The former Black Fern and Silver Fern was the driving force behind the legalization of same-sex marriage in New Zealand, claiming that the passing of the bill felt like winning the Rugby World Cup.
Jen Kish
Canada has established itself as one of the best women's rugby Sevens teams in the world thanks to the likes of Jen Kish. Despite the fact that Kish announced her retirement in April of this year, she has left an impressive legacy that included her participation in the 2010s Women's Rugby World Cup and a bronze medal in the 2016 Rio de Janeiro Summer Olympics.
Jillion Potter
Don't be surprised if the name Jillion Potter sounds familiar as she captained the 2016 USA Olympic rugby team. She went on to play 22 out of the team's 29 games, cementing her position as one of the country's top players.
Phaidra Knight
The USA women's rugby team has consistently ranked in the top 5 position for the last few years, but one of their greatest players paved the way to success long before. Phaidra Knight, a former USA flanker, was inducted to the Rugby Hall of Fame last year and is consistently regarded as one of the best female forwards to ever step on the pitch.
Mark Bingham

Although he never played rugby at a professional level, Mark Bingham has become an iconic figure for gay rugby players and sportspeople around the world. Known for his heroics during the September 11 attacks, Bingham was a robust second-row man who played for the gay-inclusive San Francisco Fog RFC.
The Mark Kendall Bingham Memorial Tournament, simply known as the Bingham Cup, is a biennial gay rugby union tournament which was held for the first time in 2002. Named after the former rugby player, the Bingham Cup has become a symbolic event that has been hosted in multiple cities around the globe.
Gareth Thomas
Gareth Thomas is one of the greatest rugby players in the history of the UK, captaining the Welsh international side as well as the British and Irish Lions during his career.
Thomas publicly came out in 2009 and has since described his experience as a secretly gay player, revealing how the social pressure and stereotypes pose a significant challenge for many athletes today.
Nigel Owens
All fans, players, and anyone who knows anything about rugby will know the name, Nigel Owens. Besides having the record for most test matches refereed, Owens has earned a reputation as one of the top rugby referees around the world.
The Welshman is also a TV personality and a devoted activist for the LGBT cause, winning "Gay Sports Personality of the Decade" at the Stonewall awards ceremony in London back in 2015.
Want to improve your Rugby performance? Download our FREE Rugby specific weight-lifting program by Clicking here. You'll get access immediately. Join 10,000 of others that have reaped the rewards.